Film Director, Screenwriter
This film has been accepted into the "Short Film Corner" at the Cannes Film Festival.
A Man Of Honor
Directed by: Tatyana Zbirovskaya
Written by: Tatyana Zbirovskaya
Starring: Albert Makhtsier, Gregory Korostishevsky
14 min
Language: English
Catalog Number: 07-SFC2774
What if someone you knew or worked with accidentally bumped into you, or spilled a drink on you, and then followed you around for days apologizing? And no matter how many times you said not to worry about it, they still kept apologizing. Then every phone call, message, or knock at your door, meant another apology by this same person. Eventually, it might drive you mad? That is the concept behind the genuinely funny short film A Man Of Honor, based on the 19th century Russian story by Anton Chekhov called The Death Of The Government Clerk, but set in modern corporate America. Written and directed by Tatyana Zbirovskaya, a newly graduated film student, the film is sharp, funny, and entertaining, as is its cast.
Forms: Short
Genres: Comedy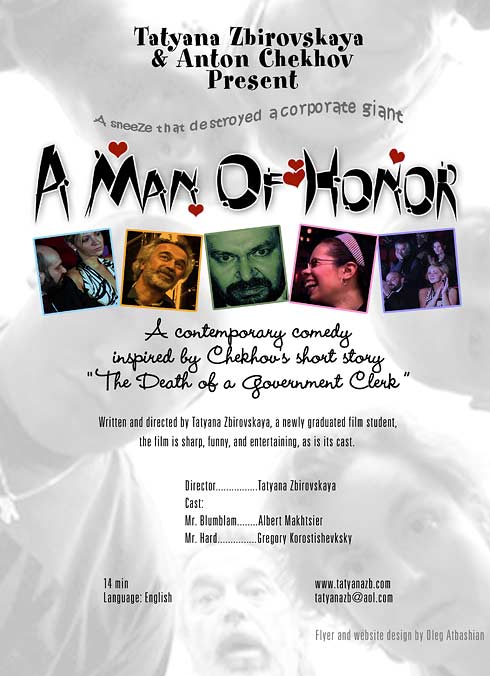 Screenshots: